Café 't Mandje was sinds 1927 het café van de legendarische Bet van Beeren (12 februari 1902 – 16 juli 1967)
"Zo'n historisch belangrijk café, de betekenis van 'tante Bet' voor Amsterdam, de Zeedijk en de homowereld en daarbuiten, maar ook de taak die 'tante Greet' 40 jaar lang heeft uitgevoerd om alles in stand te houden en te bewaken, plus het feit dat het hier om familie gaat, maken dat we niet anders willen en kunnen dan het café weer te heropenen.
De historische, culturele waarde waren te belangrijk om in een doos op zolder te verdwijnen."
– Diana van Laar
"Because of the importance of this historical pub, of "Auntie Bet" for Amsterdam, the Zeedijk , the gay community and beyond, and also of  "Auntie Greet" who kept it all going for 40 years,  plus the fact that this concerns a family-business, the only thing we wanted and could do, was to put our efforts into re-opening the café.The historical and cultural value are too important  to just disappear into a box in the attic."
Gestart in 1927 door Bet van Beeren, lesbisch en daar kwam ze toen al voor uit. Dat heeft gemaakt dat het café een belangrijk symbool is in de homogeschiedenis. Het kleine café staat in de Canon van Amsterdam als symbool van tolerantie door de eeuwen heen. En een replica is te bewonderen in het Amsterdam Museum. Na 26 jaar gesloten te zijn geweest (lees verder voor details), waarbij alles in het interieur in stand werd gehouden door Bet's jongste zuster Greet, is het café in 2008 heropend door de nicht van Bet en Greet: Diana van Laar.
Started in 1927 by Bet van Beeren, openly lesbian even then. This has made the bar an important symbol in Amsterdam's gay history. Our bar has it's own 'window' in the Canon of Amsterdam for being a symbol of tolerance through the ages. A replica of the bar can be admired at the AmsterdamMuseum. After being closed for 26 years (details below), during which time the place was kept intact by Bet's younger sister Greet, the bar was re-opened in 2008 by a niece of Bet en Greet: Diana van Laar.
(English translation by Yvonne van den Heuij en Diana van Laar)
Bet was de oudste dochter uit een gezin van veertien kinderen uit de Jordaan. Ze nam Café 't Mandje op 24 februari 1927, ze was toen 25,  over van haar oom Toon Engelen. Het café heette "Amstelstroom". Bet veranderde de naam in "'t Mandje", omdat  haar moeder haar dagelijks eten kwam brengen…. in een mandje. Bet was al bekend op de Zeedijk als "Betje Bokkum". Ze ventte er vis.

Openlijk lesbisch

Bet kwam openlijk uit voor haar homoseksualiteit.  Al jong wist Bet dat ze op vrouwen viel. Voor Bet was iedereen gelijk en haar café stond, in een tijd waarin homoseksualiteit niet geaccepteerd was, open voor homo's, lesbo's etc die zichzelf konden zijn tussen de zeelui, hoeren, buurtbewoners, acteurs, schilders en intellectuelen die hier ook kwamen.
Het interieur is in de loop van 90 jaar volgehangen met allerlei souvenirs: van afgeknipte stropdassen tot directoires en heel veel foto's.
Mannen dansen met mannen en vrouwen met vrouwen.
Bet was een legendarische uitbaatster. In een leren jas scheurde ze op de motor door de stad, soms met een nieuwe verovering achterop. 't Mandje was één van de eerste cafés waar homosexuele mannen en lesbische vrouwen hun geaardheid niet hoefden te verbergen. Maar zoenen mocht niet van Bet, er waren zedenwetten en de drankvergunning kon gevaar lopen. Het café was geen danslokaal, er stond een biljart midden in de zaak. Alleen op Koninginnedag (toentertijd op 30 april) mocht alles, dus óók dansen in een café zonder dansvergunning en werd bij Bet van Beeren het biljart uit elkaar gehaald en werd er dus gedanst door mannen met mannen en vrouwen met vrouwen.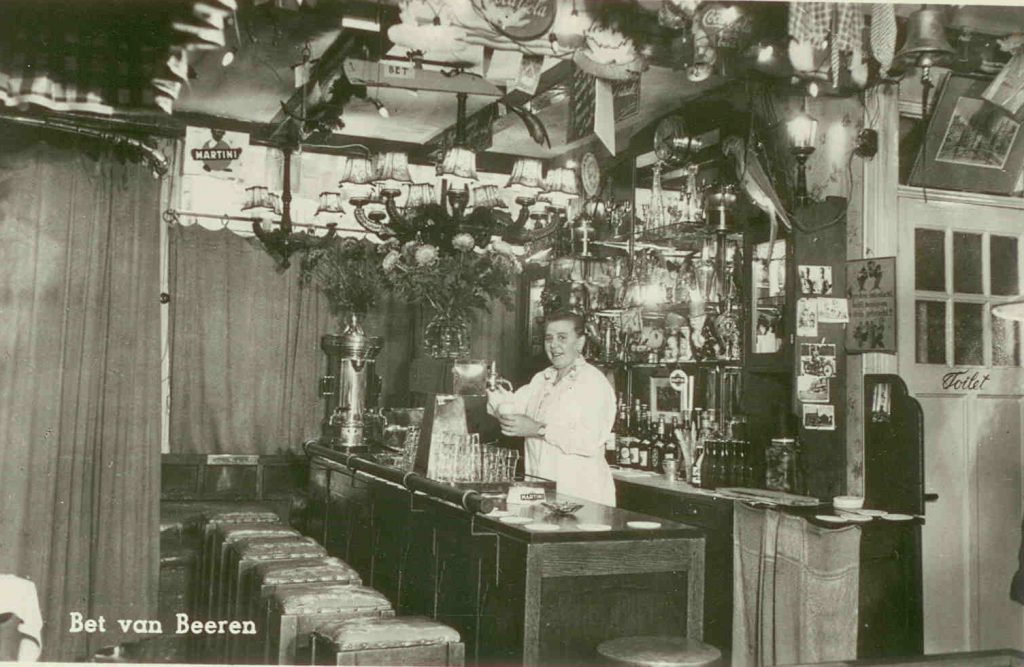 Gewaarschuwd door de uil.
Als in de jaren vijftig gasten 't Mandje binnenkwamen die door Bet niet werden vertrouwd om dat ze wel eens anti-homo konden zijn of agent van de zedenpolitie, deed ze altijd een lichtje aan in een porseleinen uiltje dat achter de bar stond om bezoekers te waarschuwen. De uitdrukking "een uil" voor heteroseksueel is daarvan afkomstig.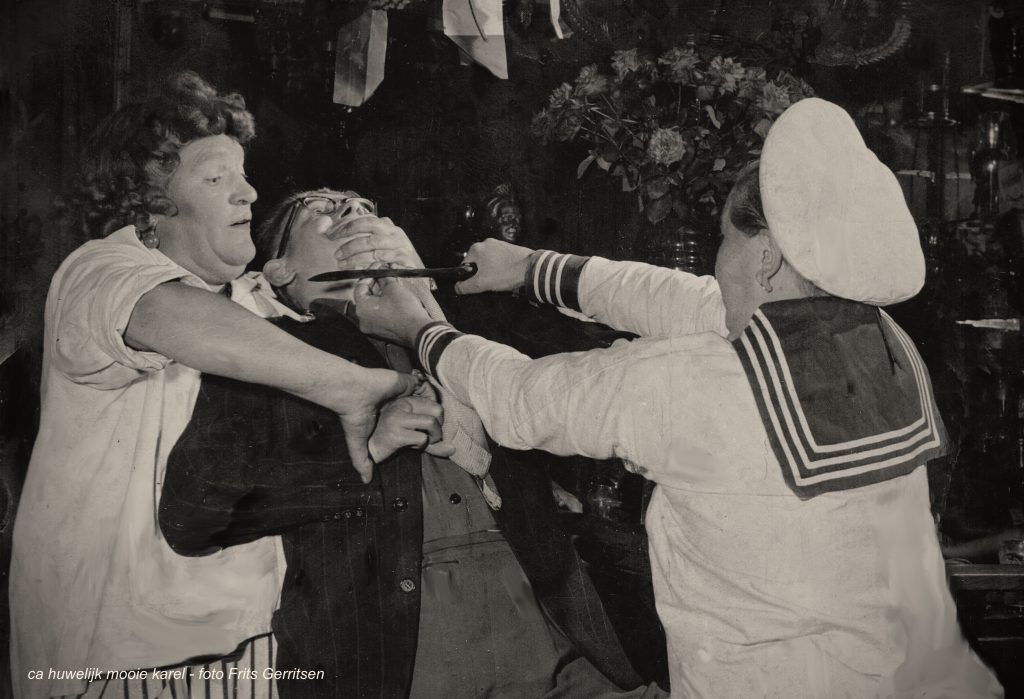 Eigenaardige gewoontes
Bet hield er eigenaardige gewoontes op na (zo knipte zij vaak bij mannelijke cafébezoekers de stropdas af), ging even sigaretten halen en verdween dan voor twee weken, kortom, zij was een persoonlijkheid, en zeer geliefd. Over de stropdassen zijn verschillende filosofietjes. Zo zou Bet geen onderscheid dulden, of bij mensen die ze niet mocht de das afknippen. Wij gaan voor de versie die Greet van Beeren vertelde: als Bet een gezellige avond met mensen had gehad in het café, wilde ze dat men een souvenir achterliet. Dat kon een visitekaartje zijn, een foto met een datum, een groet geschreven op een viltje. Maar ook een schoen, een wieltje van de kinderwagen, een vlaggetje, een bh, een kunstgebit, een tijgerkop, opgezette leguaan (het hangt er echt allemaal), óf een afgeknipte stropdas.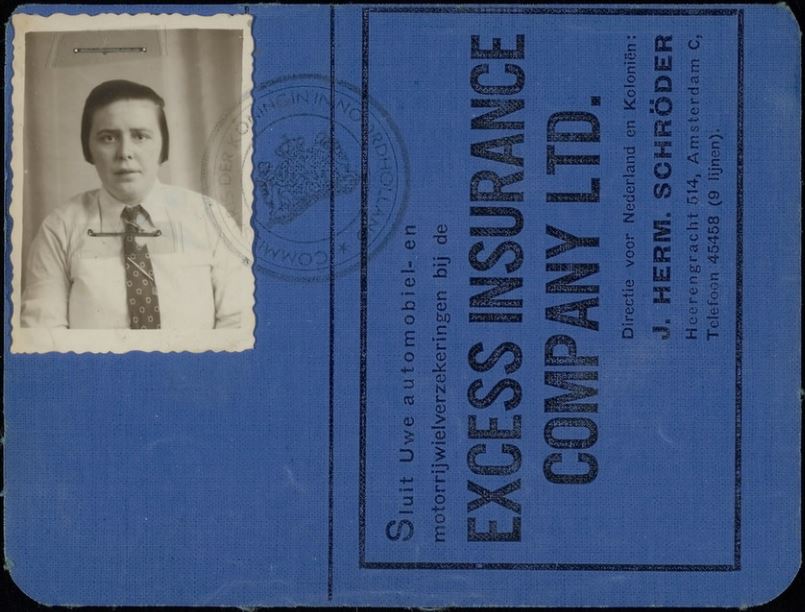 Altijd feest
Vooral na de oorlog lijkt het een groot feest te zijn bij Café ´t Mandje. Honderden foto´s van feesten, verkleedpartijen enz.. kwamen er uit de papieren van Greet en Bet van Beeren. Het was lol van het ene jubileum naar het andere.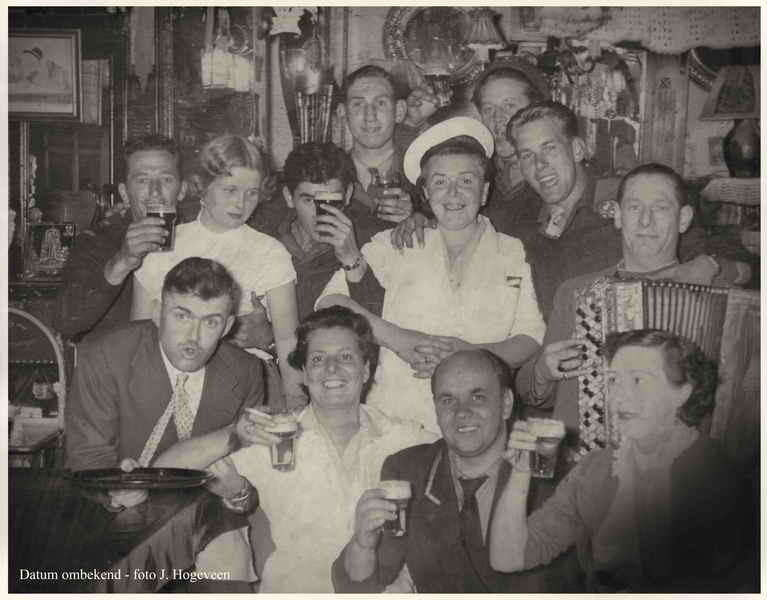 Eind van een tijdperk
Toen Bet in de laatste jaren van haar leven geen zin meer had, stond Greet achter de bar en Bet zat op de hoek van de bar. Greet werkte hard en runde daarnaast het huishouden. Het was een zwaar leven en Bet was niet de makkelijkste werkgeefster. En aan de andere kant heeft Bet Greet ook wel eens geadviseerd de hele boel te verpachten en wat rustiger aan te doen. Zo is het niet gegaan.
Op 16 juli 1967 overleed Bet op 65-jarige leeftijd. Ze lag twee dagen op haar biljart opgebaard.
Na de dood van Bet in 1967 zette haar 21-jaar-jongere zuster Greet de zaak voort. Maar niet van harte in het begin. Ze zag op tegen de taak. Tot 1982, toen ze het café, door de drugsoverlast op de Zeedijk, sloot, heeft ze 15 jaar behoorlijk succesvol de eer hoog gehouden.Vanaf die tijd is het café dicht geweest.
Greet van Beeren
Greet trok ook haar eigen publiek. En ze kon entertainen. Ze kon ook geweldig verhalen vertellen. Beroemd is haar act "Pikketanussie", waarbij ze tijdens het lied speelde met een houten monnik die in een ton een enorme houten piemel verborg… Die doopte ze in een biertje tot algemeen genoegen. Greet kon ook zingen. Heel oude smartlappen wist ze woordelijk te vertolken.
Meer over Greet van Beeren/More about Greet van Beeren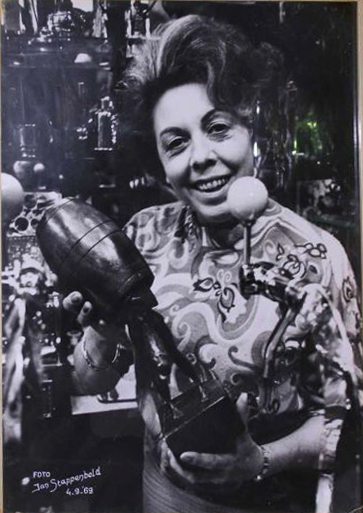 Bewaarder van het café
Greet woonde boven het café en zorgde dat er regelmatig werd afgestoft, gelucht en gestofzuigd. Je kon door de ramen naar binnen gluren en je zag dan de inrichting van toen als was het een prachtig museumstuk. Greet heeft met veel mensen gesproken over heropenen van het café. Maar door haar wens dat alles hetzelfde moest blijven, kon ze geen definitieve beslissing nemen. Het café bleef uiteindelijk 26 jaar gesloten.

Gay Games 1998
In 1998, tijdens de Gay Games, deed Greet het café een week lang open uit eerbetoon aan haar legendarische zus Bet. Voor de gelegenheid werd het café provisorisch weer in werking gesteld. Greet was enorm trots. In deze tijden waarin agressie tegen homo's nog steeds bestaat, is het belangrijk dat ook Café 't Mandje weer draait.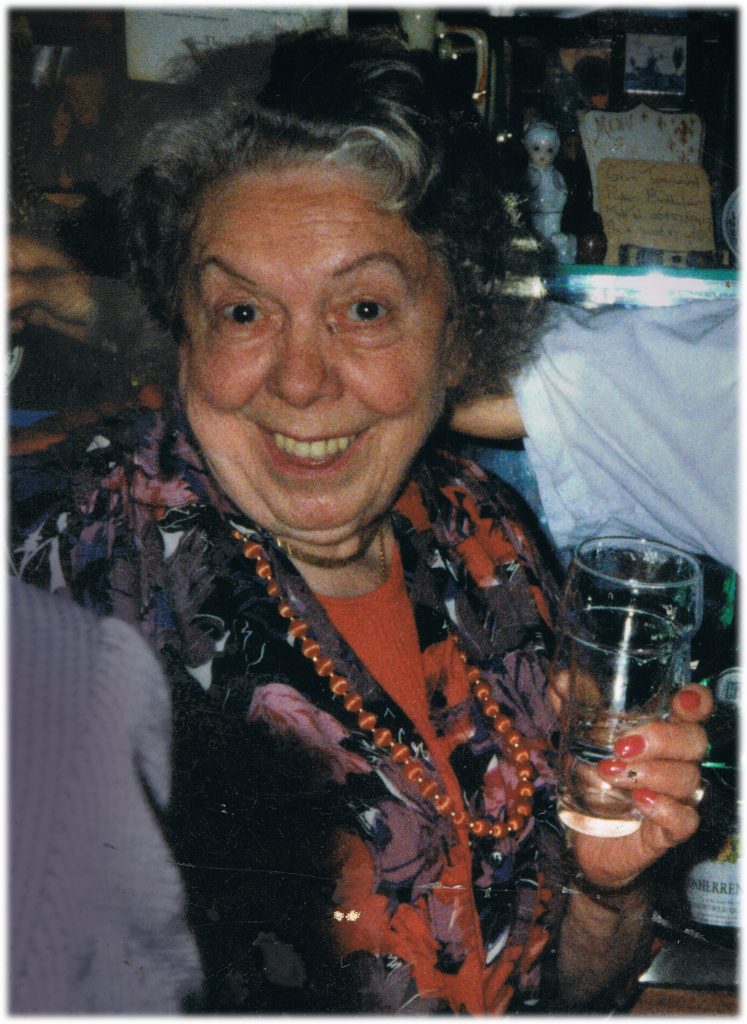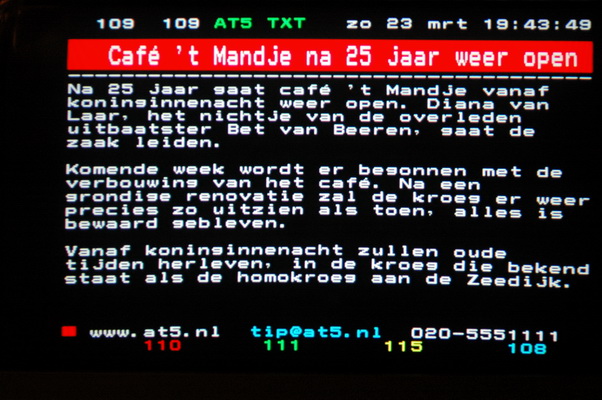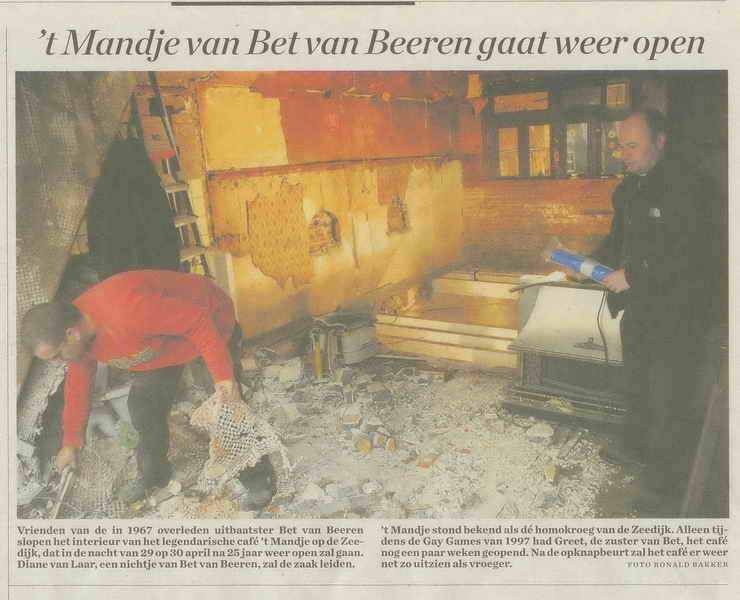 Heropening
In 2007 was het 80 jaar geleden dat Bet het café overnam van haar ome Toon. Het was in 2007 veertig jaar geleden dat Bet stierf. Greet, inmiddels 84, verkocht het café aan haar nicht Diana. Greet overleed in augustus. 
Na ingrijpende verbouwing, reparatie en schoonmaak is Café 't Mandje in oude glorie hersteld en tot groot genoegen van de homowereld, de Stad Amsterdam en de buurt op 29 april 2008 heropend: net op tijd om opnieuw een Oranjebal te kunnen houden. Een feest waarmee Bet al voor de oorlog haar reputatie vestigde:

-"Het was een ongelofelijk goed feest waarbij de mensen ongeacht hun sexe met elkaar mochten dansen en dat was in die tijd een soort fenomeen, want dat mocht nérgens, dat mocht nóoit (maar) bij Bet mócht het en kón het en niemand vond het vreemd."
(-Albert Mol, 1977)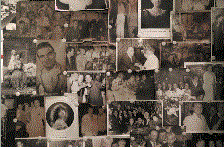 Diana van Laar:
Het is een bijzonder cafeetje, met een bijzonder verhaal. Voor mij en de rest van de familie was het allemaal heel gewoon. Dat was tante Bet. En geboren op de Zeedijk: er waren tantes die leken op ooms en ooms die leken op tantes, ook heel gewoon. Er waren vriendinnetjes wier moeder een klein huisje hadden op de Geldersekade, met rood tapijt op de grond, muren en plafond. Allemaal gewoon.
Met de heropening van het café was de wens van tante Greet om alles te houden zoals ten tijde van tante Bet een belangrijke leidraad. Zij heeft het café bewaard, onderhouden, bewaakt. Zonder haar zouden bijvoorbeeld al die stropdassen vergaan zijn…
Verbouwing
Buiten de vrij overzichtelijke verbouwing (extra sanitair, brand- en geluidsaanpassingen. vernieuwingen van de electriciteit, het vervangen van de cafevloer.) was het heropenen van Café 't Mandje een vrij uitgebreid projekt. Het meeste werk zat 'm bij Café 't Mandje natuurlijk in het interieur. Alles wat er hing, stond, en lag moest weer op zijn oude plek terugkomen na de verbouwing.
Voor de verbouwing moest het hele café leeg gemaakt worden en toen alles klaar was weer zoveel mogelijk in de oude staat aangekleed worden. Er moest veel gefotografeerd worden, zodat duidelijk was welk vaasje, beeldje, bordje, flesje, schoentje, hoedje waar stond danwel hing. Alleen al van het plafond zijn 300 foto's gemaakt.
Er zijn prachtige 360°-opnames gemaakt door Fridtjof Versnel en André Witkam. Er zijn door Fridtjof Versnel en André Witkam technische foto's gemaakt van de fotowanden. De oude foto's waren kwetsbaar en brandgevaarlijk en konden niet meer terug aan de wanden gehangen worden. Bovendien komt er een dag dat ze vergaan. Door reproducties van de wanden te maken, blijven alle foto's aanwezig in het café, is e.e.a. in geval van beschadiging makkelijker te vervangen en blijven de originelen voor eeuwig bewaard, ondermeer in het Stadsarchief en het Homo-archief (ILHIA). 
Stadsarchief
Het Stadsarchief heeft een selectie gemaakt van de foto's en andere interessante documenten die in het café en in het woonhuis zijn gevonden. Met witte handschoentjes zijn foto's van de wand gehaald. Het chronologiseren van alle foto's en documenten heeft inmiddels in dat familie-archief een overzicht opgeleverd dat van 1907 tot heden loopt. Een rijbewijs van 'tante' Bet uit de dertiger jaren, huurkontrakt ook uit die tijd, kasboeken van 70-80 jaar geleden, te veel om op te noemen.
De teruggeplaatste fotowanden zijn van een bijzondere kwaliteit: "Het is alsof je de punaises er uit kunt halen", roept menigeen.

Volgens Wilhelmina Biljartfabriek is het biljart inderdaad ca. 80 jaar oud en waarschijnlijk op maat (1×2 mtr) gemaakt voor zo'n klein café door een locale biljartfabriek (Oude Zijds, Warmoesstraat). Wilhelmina Biljarts heeft het biljart inmiddels meegenomen voor restauratie en sponsort dit voor een belangrijk deel, omdat zij vinden dat zo'n oud Amsterdams biljart op zo'n plaats in stand gehouden moet worden. Het biljart is jarenlang voor de Koninginnedagen –toen moest het biljart plaats maken voor een dansvloertje- nogal onvakkundig gedemonteerd en dat mag voortaan alleen nog door Wilhelmina Biljartfabriek gedaan worden!
En dan: al die koperen vazen, koperen bordjes, gedenkborden, souvenirs, lampekapjes, tassen, schoenen, opgezette hagedissen, leguanen, berekoppen, tijgerkoppen (ja dat kon allemaal in die tijd blijkbaar)… Alles moest worden gepoetst, gewassen, gestoomd, geïmpregneerd, ingelijst, verstevigd, vervangen en vooral weer teruggehangen worden.
En de stropdassen: wat waarschijnlijk begonnen is als geintje, is een ware gimmick geworden in Café 't Mandje. Een plafond vol. Ze zijn allemaal gereinigd en geïmpregneerd tegen brand en weer op de oorspronkelijke plaats teruggehangen. Er zijn er natuurlijk een paar gesneuveld tijdens dit proces, maar zijden stropdassen hebben het allemaal overleefd en van de synthetische sommige niet…
Fun en respect sinds 1927 –
we weten niet beter
En wat ook nooit zal veranderen: iedereen is welkom. Hetero's die in de war raken van een verliefd homostel leggen we even uit dat het zo fijn is dat we niet in Afghanistan wonen en dat je je broertje niet hoeft te stenigen als hij gay is. Maar ook: iemand die 400% homo is en zich misdraagt gaat er gewoon uit. Iedereen moet het naar zijn zin hebben. De reacties van gasten zijn om trots op te zijn. Iedereen waardeert de geschiedenis en heeft het naar zijn zin.We draaien lekkere 'ouderwetse' muziek (meezingers en soul, funk en disco etc)Er wordt gezongen en gedanst, net als bij tante Bet. We weten niet beter.
– Diana van Laar
(2008)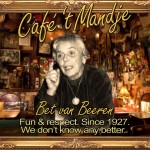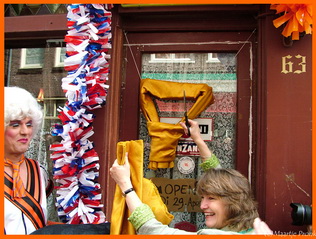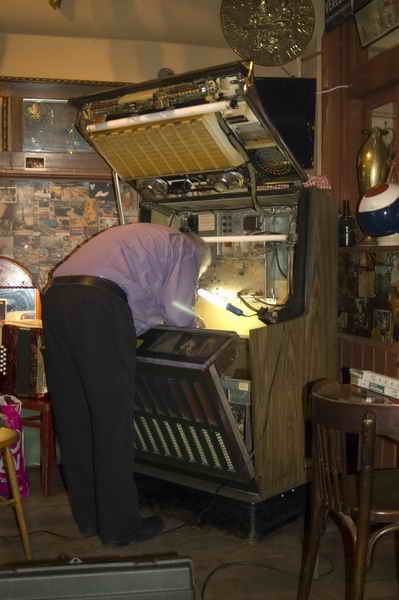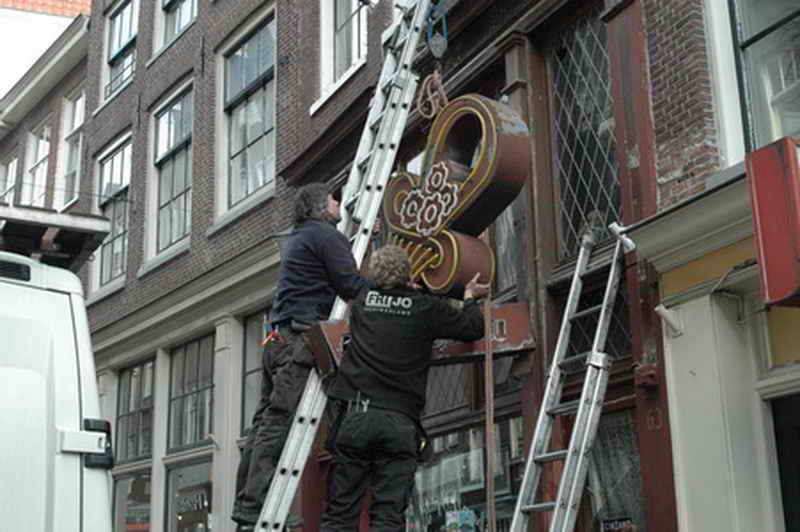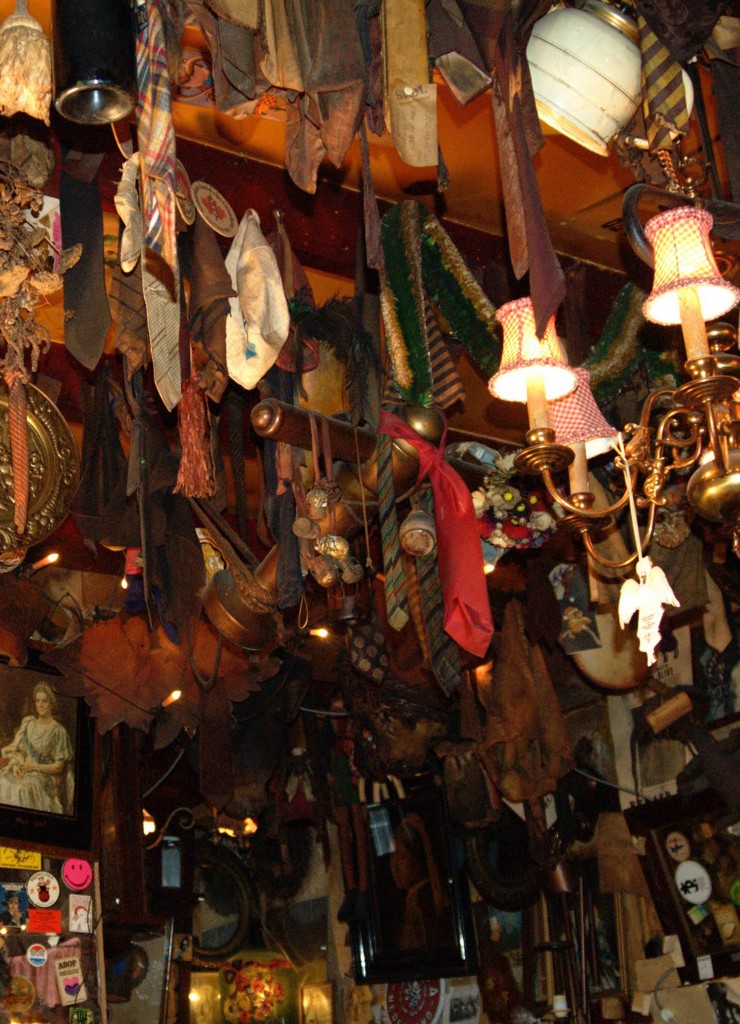 Café 't Mandje (meaning "little basket") was opened in 1927 by the legendary Bet van Beeren (Feb.12, 1902-July 16, 1967). She was 25 when she bought the bar from her uncle Toon Engelen and changed the name from "Amstelstroom"(Amstel stream) to 'The Little Basket', because her mother brought her food everyday…. in a little basket. Bet was already well-known in the neighbourhood as Betje Bokkum (bokkum is smoked herring). She was a fish vendor.