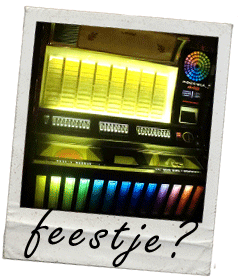 Agenda.
In deze online kalender zie je ook wie er op welke dagen achter de bar staat.
Veel van het caféleven verplaatst zich op een natuurlijke manier naar buiten – rookverbod.
Ons café is oud. Het interieur is uniek en kwetsbaar. Hoe gezellig er ook gedanst wordt, we verwachten dat gasten zich gedragen en respect hebben voor onze geschiedenis en interieur. Mensen die zich menen te moeten vergrijpen aan de decoraties of op de meubels te moeten staan worden verwijderd. Het kan namelijk niet zo zijn, dat wat in 90 jaar is verzameld in 5 minuten gesloopt wordt!
Catering
Verder kunnen we zorgen voor allerhande hapjes. Van luxe catering tot blokjes kaas en leverworst, van patat tot sushi.
Overige snacks moeten voorbereid worden. Catering leveren we tegen inkoopsprijs.
Warme snacks (bijvoorbeeld bitterballen, vlammetjes, kaassouffleetjes) etc.Eur 0,50 p/stk.;
Hollandse borrelhap (kaas/worst/uien), bijvoorbeeld plateau voor 20p Eur 15,-.
Thaise snacks Eur 0,80 p/stk.
Entertainment
We kunnen je gasten laten meezingen, met of zonder accordeonist. Accordeonist Eur 65,-/uur).
Er is een Hammondorgel aanwezig.
Drankprijzen
We hanteren de prijslijst.
Betaling
Er kan cash betaald te worden, maar liever nog per PIN.
We kunnen een maximum afspreken, en/of af en toe een seintje geven van de stand van zaken.
Vaak wordt een limiet afgesproken en bij het bereiken van die limiet betalen je gasten voor hun eigen drankjes. Dat is misschien vriendelijker naar je gasten dan bijvoorbeeld alleen bier en wijn laten drinken?
Omdat het café gewoon open is, gelden de openingstijden.
Omdat het café gewoon open is, komen er ook andere gasten binnen.
Wij doen er alles aan je feestje zo leuk mogelijk te laten verlopen.